10.10.13 (Thursday)

BE HAPPY HAITI – Dental mission founded by three Nashville HS Seniors
Details
Emma Hall, Blair Ely, and Brooke Ely are three St. Cecelia Academy high school seniors from Nashville, TN on a mission to put our faith in action and help the people of Haiti. Their main goal is to help Haiti help themselves. There is a definite gap in healthcare and we believe that maintaining a dental clinic is the next step. They have started the BE HAPPY HAITI mission for the kids of Haiti.
Go to GOOGLE or YOUTUBE and type in "Be Happy Haiti" to view this 4 minute video and to learn how you can help (donations are tax deductable).
http://www.youtube.com/watch?v=ugVM8Ct8vEs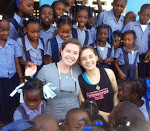 We need your support to continue this ongoing weekly service for the children of 20 schools in rural Haiti, kids who otherwise receive no dental care and end up with marred smiles and reduced chances at employment. 
http://behappyhaiti.blogspot.com/
Schedule:
7:00 am – Mass (Cathedral of the Incarnation)
7:30 – 8:00 am – Prayer Breakfast/Networking (Fleming Center)
8:00 – 8:30 am – Program
8:30 – 9:15 am – Fellowship and Networking
Please come join our Prayer Breakfast…you will find common ground with many and maybe a business contact as well.
Schedule
7:00 – 7:30AM – Mass (Cathedral of the Incarnation)
7:30 – 8:00AM – Breakfast Meeting & Networking
8:00 – 8:30AM – Program
8:30 – 9:15AM - Fellowship and Networking