02.08.18 (Thursday)

Introducing Our Thought Leadership Series with Three Exciting Speakers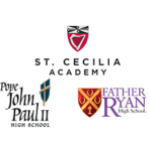 Featuring Jim McIntyre, Mike Deely, and Sister Anne Catherine, O.P.
Sponsored by Father Ryan High School, Pope John Paul II High School, and St. Cecilia Academy
Details

For our Breakfast Meeting this February, we are honored and excited to have not one, not two, but THREE amazing speakers. 
Father Ryan President Jim McIntyre, Pope John Paul II Headmaster Mike Deely, and St. Cecilia Principal Sister Anne Catherine, O.P. will comprise a panel discussion about the future of Catholic education. 
Marty Blair, a partner at STAR Physical Therapy and our 2017 Catholic Business Professional of the Year, will moderate. 
This panel will serve as the first installment of our Thought Leadership Series. Our hope is that at all of these meetings, attendees will leave learning something new or, even better, asking themselves a new question about how Catholic faith affects our lives, professions, and education. 
As always, this meeting will begin with networking and coffee at 7:30 a.m. in The Fleming Center at the Cathedral of the Incarnation. We invite all to attend 7:00 a.m. Mass immediately prior. 
Schedule
7:00 – 7:30AM – Mass (Cathedral of the Incarnation)
7:30 – 8:00AM – Breakfast Meeting & Networking
8:00 – 8:30AM – Program
8:30 – 9:15AM - Fellowship and Networking