03.08.18 (Thursday)

Welcoming Bishop J. Mark Spalding to the Catholic Business League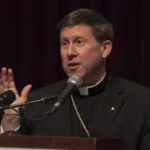 Featuring Bishop J. Mark Spalding
Sponsored by The Tennessee Register, Knights of Columbus, Camp Marymount, and Gino Marchetti
Details
We are beyond honored to welcome the newly ordained Bishop of the Diocese of Nashville, J. Mark Spalding, to the podium this March.
The Kentucky native has already made an impact on Music City, as his casual demeanor, relaxed sense of humor, and highly relatable personality does nothing but make people feel comfortable and welcome. Bishop Spalding is a 21st-century leader, and we are excited for how he will engage the Nashville Catholic Community, which is younger than it has been in years.
The Tennessee Register, Knights of Columbus, Camp Marymount, and Gino Marchetti will be the faithful sponsors for this event, and as always, the Holiday Inn-Vanderbilt will be providing attendees with coffee, fruit, and pastries.
We hope you'll start your Thursday with us and Bishop Spalding!
Schedule
7:00 – 7:30AM – Mass (Cathedral of the Incarnation)
7:30 – 8:00AM – Breakfast Meeting & Networking
8:00 – 8:30AM – Program
8:30 – 9:15AM - Fellowship and Networking