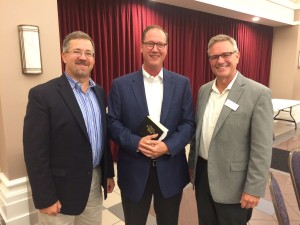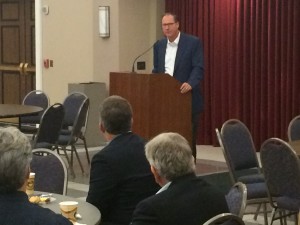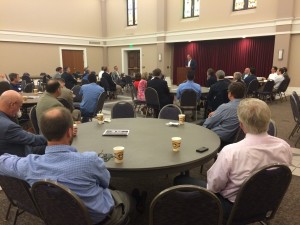 An engaged group of businessmen and businesswomen gathered this morning at Cathedral to hear Deacon Sean Keller, KCHS Permanent Deacon at the Baltimore Basilica, as he exhorted the Catholic Business League members to be "heralds of the Gospel" in their professional and personal lives.
"When you are a herald of the Gospel," he stated, "from there, everything flows…in our business lives, in our personal lives, in our relationships. Grounded in our faith helps us make the right decisions. And it challenges us to do the hardest thing…to practice what we preach."
Deacon Keller brought greetings to the meeting—sponsored by Star Physical Therapy– from the Archdiocese of Baltimore, and from Archbishop William Lori, as he talked about his life growing up Catholic in the Baltimore area. He joked that he was "probably 8-years-old before I met my first non-Catholic," but he described it as a great time to grow up. The community, while heavily Catholic, was still home to so many faiths, and he described the time as one where every faith supported each other's faith community and everybody attended each other's events.
An Air Force reservist who served four years in the Navy after high school and a successful businessman who has built several companies, Deacon Keller described the calling he felt to serve. "My wife and I have always been servants, whether it was at our daughters' schools or at church or in the community. But I felt this need to do more, and when I was encouraged to join the deaconate, everything came together."
Prior to Deacon Keller's talk, Jeff Sparks opened the meeting with his testimony about growing up Catholic in Arkansas and seeing his faith grow.