Robert Chapski – Lewis, Thomason, King, Krieg & Waldrop, P.C.
Robert Chapski is an attorney and shareholder with the law firm of Lewis, Thomason, King, Krieg & Waldrop, P.C.  Mr. Chapski practices primarily in the areas of product liability, tort and commercial/business litigation in addition to other trial practice related fields.  He represents and consults various local and national clients in complex, high-exposure federal and state court matters.  For more information, go to:  http://www.lewisthomason.com/attorneys/robert-f-chapski/
For more information about the firm:  Lewis Thomason is proud of its longstanding tradition of excellence and is squarely poised for a successful future.  We are committed to providing a level of service that builds respect and establishes long-term relationships.  Combining expertise with experience, our firm offers a wide range of legal services and strives to create an atmosphere of trust and communication between its clients and lawyers.
We work diligently to resolve conflicts and create enterprise opportunities for our clients.  We respond to our clients promptly and clearly, explaining matters in common, understandable language rather than complex legal jargon.  Lewis Thomason believes in offering exceptional representation at reasonable costs and meeting clients' legal needs thoroughly; we are careful to avoid pitfalls that could lead to unnecessary litigation.
Our 90-plus highly skilled attorneys cover the entire state of Tennessee and serve regional and national clients.  Whether you're facing a lawsuit, struggling with a legal issue or need help with a complex business matter, we are confident that the first step to getting the results you want is to contact Lewis Thomason.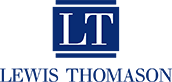 Contact Name: Robert Chapski
Contact Email: rchapski@lewisthomason.com
Contact Phone: 615-259-1378
Website: http://www.lewisthomason.com/