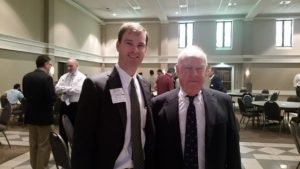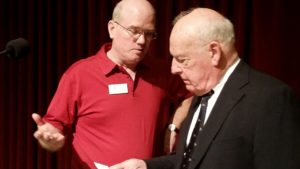 The charge and the challenge in serving communities around the world was the focus of the Catholic Business League's May Breakfast Meeting as Dr. John O'Neill, noted Nashville pediatric surgeon and international medical volunteer, talked about his longstanding medical mission work in Africa.
Citing the challenges of delivering humanitarian services in Africa where extreme poverty, limited resources, workforce shortage and cross border violence are the norm, he pointed to the importance of healthcare in helping to deal with these problems. "The solution to many of these problems lies in better health," he said, "and that can be a challenge in a part of the world with limited resources." Dr. O'Neill's group works in East Africa, an area of the continent that is particularly affected by all of these issues. In Kenya, he reported, there are only two national hospitals to serve the country, only 10 pediatric surgeons to serve a population of more than 62 million—there are that many alone serving Nashville—and there is only one anesthesiologist for 100 miles.
His clinic works to address these healthcare needs by treating patients on site, but also by changing the healthcare model, one that he says is focused on surgical education along with research and research training. "I have been struck by the compassion of the trainees and their heart for this mission. Combine that with better training and we can see some results. That is the future."
A native of New York City, Dr. O'Neill did his undergraduate studies at Georgetown and earned his M.D. from Yale University. He came to Vanderbilt and never looked back. He was the recipient in 2016 of an International Surgical Volunteerism Award from the American College of Surgeons (ACS) for more than three decades of service as a surgeon and educator in medically underserved countries.
His work in Africa remains his focus. As he told the group in closing, "when you go to Africa, take two hearts, because you'll leave one there."
Thanks to everyone who came out to our May Breakfast Meeting. We hope to see you at our June Breakfast Meeting as we welcome our special guest Maria De Varenne, Executive Editor of The Tennessean.
May Breakfast Meeting Trivia Question
What percentage of Cathedrals in the U.S. honor Mary in their name?
Visit the Catholic Business League on Facebook for the answer!