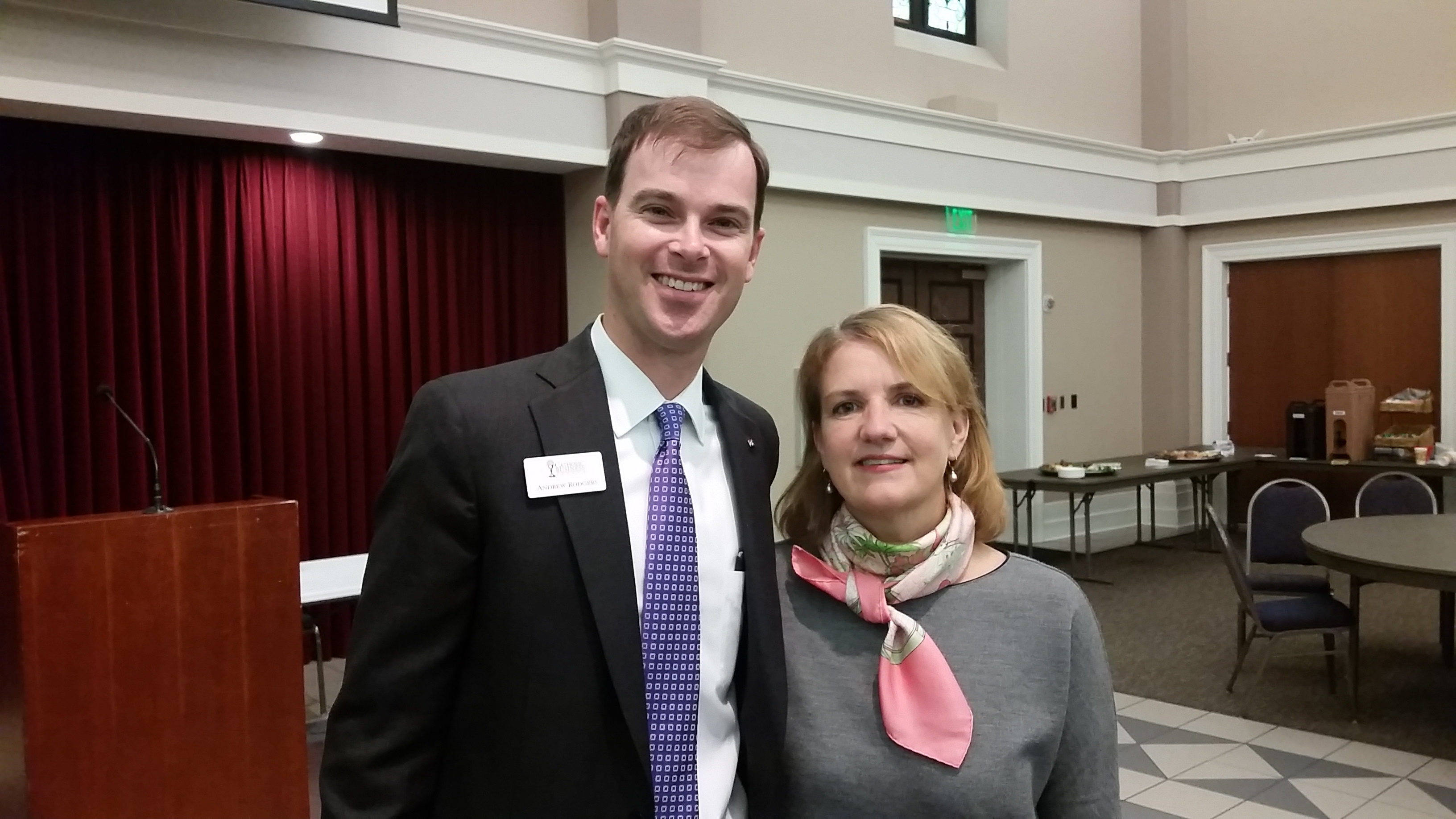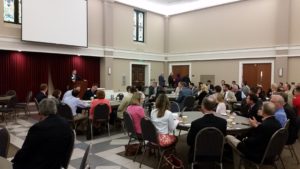 Drawing on memories of her families' faith experiences and seasoning them with tales from this year's NCAA March Madness and tweets from Pope Francis, Beth Seigenthaler Courtney, head of DVL/Seigenthaler, delivered a powerful message about how today's distracted, connected and divisive communications world can actually help Catholics enrich their faith.
Speaking to a gathering of more than 75 business leaders at this morning's Catholic Business League breakfast at The Cathedral, Courtney talked about her 16 years of Catholic education, an experience of her faith brought more to light through the weekly trips with her grandmother, Mary Catherine Strobel. "In addition to Mass at Assumption on Sunday, we'd travel to a cousin's First Communion, a friend's child's Baptism, and other events in the Catholic community. And I learned that strong faith makes strong families."
Courtney's ancestors came from Chicago, fleeing the Chicago fire of 1871, and she recounted the story she's heard for years of their escape and what they traveled with. "I ask myself what I would save first and would it be my iPhone or my iPad. They put all their children on their cart and then added the statues of the saints and the small altar, and then they left. My great-great grandfather was a tailor, and he didn't take his sewing machine, because it was his faith that defined him, not his sewing machine. Their survival depended on their faith. How do we keep a faith as strong as theirs when so many other traditions are unraveling?"
But she reminded the audience that the technology and devices that fill her life in communications are actually powerful links that can actually grow our faith. She cited the daily tweets of Pope Francis, the blogs of Msgr. Owen Campion, a Nashville native and long-time editor of Our Sunday Visitor, and the websites of our Catholic schools and churches that open up events and experiences and discussions that truly expand our faith life. "I am closer to my St. Cecilia classmates and Camp Marymount campers. I'm more connected to Boston College than I was five years ago, all because of social media. Imagine what it would have meant to our grandparents to have had the experiences we have now, to have a daily encounter with the Pope," she said. " It's that kind of experience that can tie our larger family of Catholics together today, helping to strengthen our faith in new and meaningful ways."
As for the NCAAs, Courtney said that her 8-year-old son was puzzled by her bracket selections—Gonzaga, Xavier, Seton Hall, Creighton.   They all seemed to defy logic. And she explained that she didn't concern herself with whether they won or lost; she was proud of what they stand for and continue to stand for.
Not surprisingly, Courtney's own family—her mother, Veronica, her sister and business partner Amy Seigenthaler Pierce and several cousins—joined her this morning to add their support, further affirmation that strong families of faith continue to make a difference.
Leadership Catholic Officially Launched
Board member Steve Horvath officially launched the new Leadership Catholic mentoring program at today's CBL meeting. Steve announced the first set of mentors and opened the application process, available at www.catholicbusinessleague.org/leadership-catholic. The first class of mentees will be announced in September to coincide with the 10th Anniversary of the founding of the CBL.