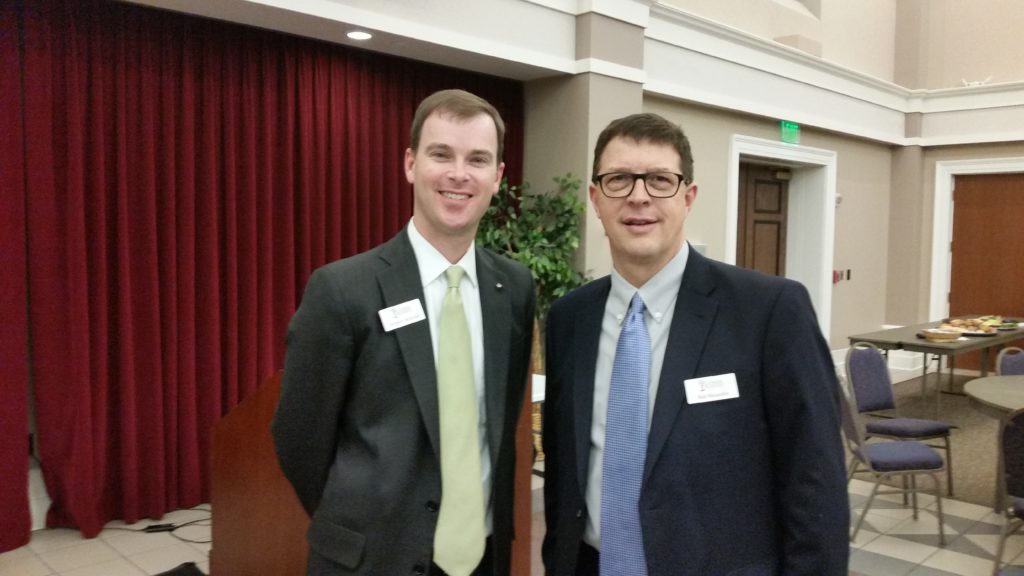 Rick Musacchio, who for 18 years has guided the Tennessee Register to the top echelons of Catholic papers in the United States, showcased the editorial approach that has made the paper a critical voice of the Catholic community across the Diocese at this morning's Catholic Business League (CBL) breakfast.
Speaking before a large crowd of CBL members and guests at the Fleming Center at the Cathedral, Rick talked about the process of putting out the paper, the strength of the Register staff and its critical role in continuing its mission of building community.  Harkening back to the paper's founding by Bishop Alphonse Smith in 1937, he discussed its original role, to be the connective communications outlet for Catholics throughout the Diocese, a daunting role then because of the Diocese's presence across the state and the difficulty of travel across this geography.  As intended by Bishop Smith, the Tennessee Register was to be an important part of building community and assisting in the teaching office of the Bishop.
Standing in front of a slide show presentation that showcased the Register's and Rick's photojournalism work here and on the national stage, Rick applauded the staff of the paper, including Andy Telli, Theresa Laurence, Byron Warner and Debbie Laine, for their professionalism and commitment.  He also spoke strongly about the paper's ongoing, bedrock principle, which guides their work—to live up to the principles of Catholic social justice by being a voice of the truth, rooted in the Catechism and the principle of the First Amendment.  As he noted, that approach has earned the paper accolades, being named the best paper in their category four times by the Catholic Press Association.  But, more importantly, he noted with pride the work the paper does to continue to build the community of Catholics in the Diocese.