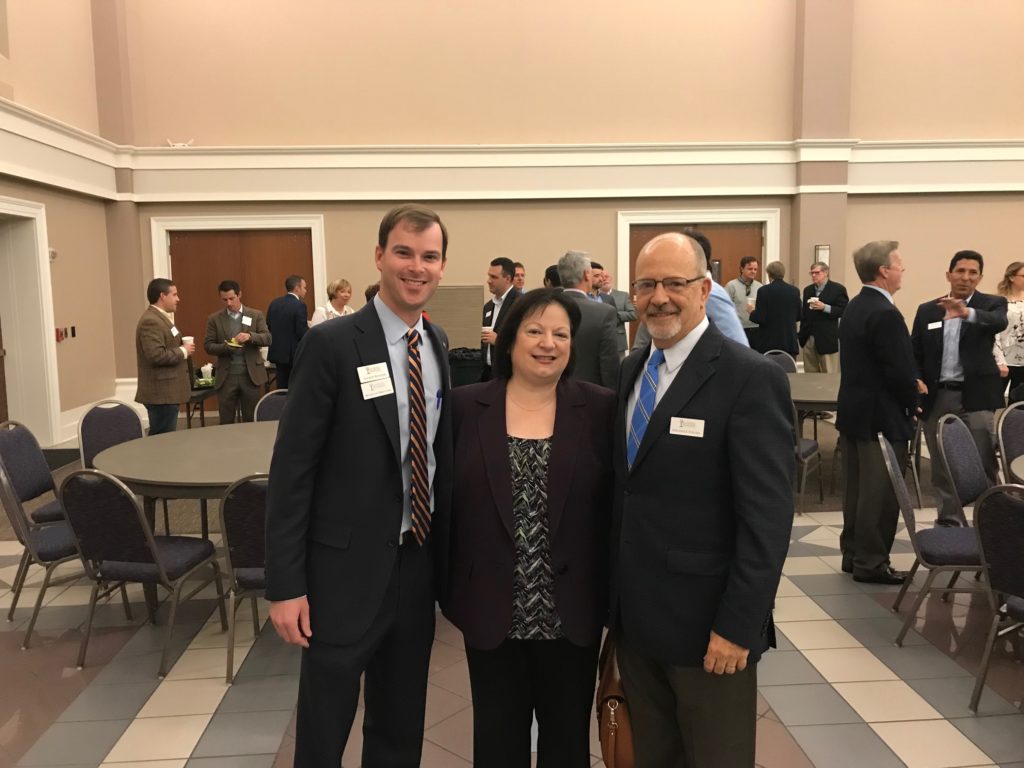 Pam Russo, center, the Executive Director of Catholic Charities of Tennessee, is pictured here with Drew Rodgers(l), President of the Catholic Business League, and Frederick Strobel, Chairman of the Board of Catholic Charities of Tennessee.
Nearly 100 Catholic business professionals packed into the Fleming Center at the Cathedral of the Incarnation on a chilly November morning to listen to Pam Russo, Executive Director of Catholic Charities of Tennessee, speak about her life and work.
As Frederick Strobel, Chairman of the Board of Catholic Charities of Tennessee, said in his introduction, Russo, like so many, is a newcomer to Nashville. A native of the Philadelphia area, Russo spent her entire life prior to relocating 10 months ago in the Northeast.
Adjusting to life in a new area, however, parallels quite perfectly with much of Russo's and Catholic Charities' work. Among their most important, challenging, and successful initiatives involve helping folks who are in a state of transition. This includes refugees looking to settle in America and individuals in need of employment, food, shelter or transportation.
While Russo may be new to Nashville, she is far from a stranger to this work. A licensed social worker, Russo has dedicated her life and career to hearing the needs of others, identifying roadblocks in their way, and working with them to gain success. She stresses that the relationships Catholic Charities has with individuals are not one-way streets; "we will work tirelessly for folks of all backgrounds, so long as they are working tirelessly towards their own improvement as well."
On an anecdotal note, Russo humored the room about her interview with the recently-deceased former Bishop of the Diocese of Nashville, David Choby, when she was applying and being considered for the position she currently holds. Despite being a native Pennsylvanian, she claims she grew up in a household divided on sports team, and as a result, adopted the Nashville Predators as her hockey team of choice since their inception in the late-1990s. Upon learning this, Bishop Choby asked what name she wanted on the back of her Nashville Predators jersey if hired. She answered that she'd want a jersey of defenseman P.K. Subban, and the rest is history.
Russo mentioned many times that she's so honored and delighted to now be a Middle Tennessean, and she approaches the challenges of her position with humility, industriousness, and optimism. Throughout life, all individuals will take paths through varying stages of life. Periods of great joy and stability are often followed by bouts of unfortunate events and unanswered questions. For Russo and her staff at Catholic Charities, these are the times when they look forward to being there to help.