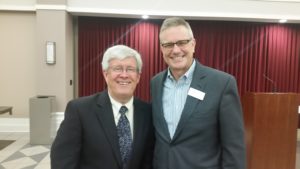 The current presidential race dominated the discussion at the Catholic Business League's monthly breakfast meeting this morning as Pat Nolan, senior vice president of DVL/Seigenthaler and long-time political analyst for News Channel 5, provided insights into the upcoming election.
Citing comments from Pope Francis, the candidates and political reporters, Pat provided information not only on the race itself but on opinions on the role of Catholics in deciding elections and how Catholics should assess these candidates in making their own decisions.
He went on to break down current data on the election and remarked that more states are in play than in decades and conventional wisdom is not very conventional. "I've been involved in political discussions for years and seen many an election. This is the most unusual race I've ever seen, and certainly the most contentious."
In assessing the broader election process he said that everyone needs to find some common ground. Whether it's a presidential campaign or a local election "you have to find ways to agree," Pat said. "We can't demonize the other candidates and still effectively govern."
Pat is a product of Nashville education. He attended St. Bernard Academy and Cathedral Grade School, graduating from Father Ryan in 1969 and earning his degree from Vanderbilt University in political science in 1973. He has been involved in journalism and political coverage for decades, beginning at The Moina student newspaper at Father Ryan. He was recently inducted into the Vanderbilt Student Media Hall of Fame.
CBL Member Tim Grubb opened the meeting with his testimonial. He spoke on moving to Nashville as the son of a Baptist minister and becoming involved in the Catholic community. He talked about showing our faith by simply showing up. Wherever we are, whatever the situation, we can live our faith for others to see.
For continued coverage and updated projections on the 2016 Election between now and November 8, Pat suggests to visit RealClearPolitics and Nate Silver's FiveThirtyEight.