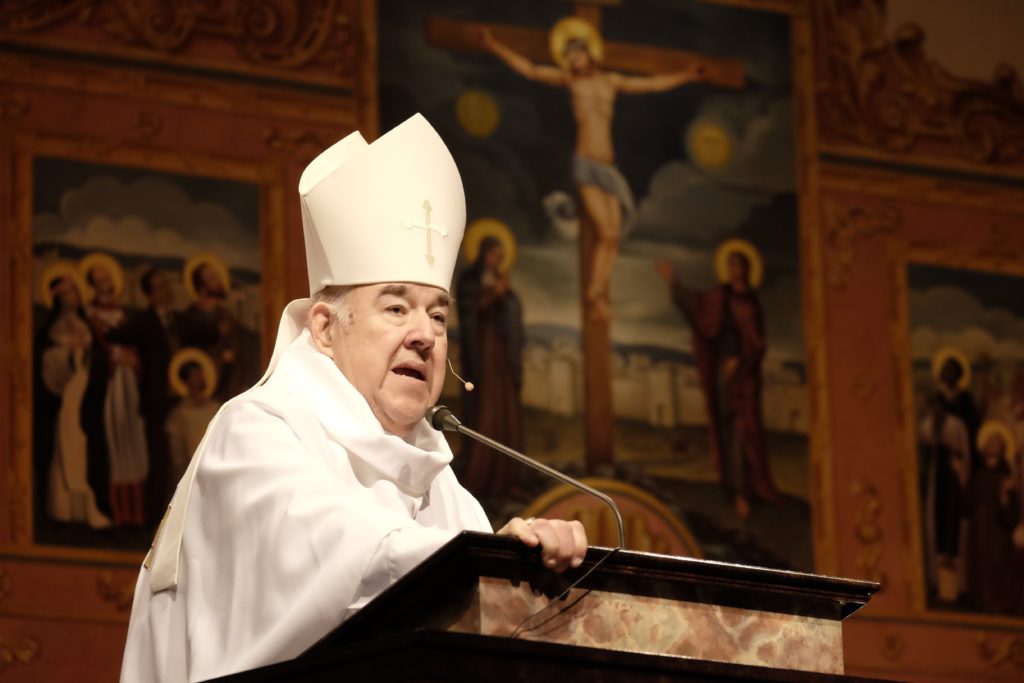 The Most Reverend David R. Choby, the 11th Bishop of the Diocese of Nashville, whose example of our faith inspired this community and whose work on vocations dramatically increased the number of priests in the diocese, died Saturday night at St. Thomas Hospital. He was 70.
Bishop Choby had been battling an infection that had developed after a fall he took in February that damaged his spine. He had been in the hospital ever since that incident.
Bishop Choby was a champion of the Catholic Business League and his contributions and commitment to our organization were numerous, but most evident by his annual visits to the monthly breakfast meeting. Every July, Bishop Choby joined the Nashville Catholic business community to present the seminarians of the diocese and offer us the opportunity to get to know (and at times, lightheartedly interrogate) the future of the Nashville clergy. His personal introductions of the seminarians demonstrated his care for each of these men's vocations, and his words of their work inspired every member of the Catholic Business League.
It was important to the Bishop to be present at these annual programs, and the pride that he took in introducing the seminarians to the CBL was akin to the pride of a father doting over his children. He was, rightfully, proud of his commitment to growing vocations and the group of men that had committed to the priesthood, his love for the Church and for our Diocese added a warmth to every event he attended, especially our breakfast meeting. I was hopeful to again see Bishop Choby at our July meeting and looking forward to when the bishop and his seminarians would arrive and show to us again the power of our faith in this community. Whether it was our July meeting or a Confirmation or a special dinner, Bishop Choby brought his kindness and his encouraging words, energizing our community and enlivening both the events and the people who attended them. While we in the Catholic Business League will miss him greatly, we should always remember Bishop Choby's powerful legacy and example of faithful risk taking, hopeful dedication to his community and love for Christ, His Church and one another.
Bishop Choby was born in Nashville and baptized in the Cathedral of Incarnation where he was ordained a bishop. He was the son of Raymond and Rita Choby, both deceased. He is survived by his only sibling, Diane C. Dyche of Fort Worth, Texas. He attended Catholic schools growing up, graduating from Father Ryan High School in 1965.
After spending one year at Aquinas College in Nashville, he entered the seminary at St. Ambrose College in Davenport, Iowa. He also studied at Catholic University of America in Washington, D.C., before being ordained as a priest on Sept. 6, 1974 by Bishop Joseph A. Durick at St. Henry Church in Nashville.
He served a number of assignments in the Diocese of Nashville. He was associate pastor at St. Joseph Parish, Madison, administrator of St. Ann Parish, and spent three years in residence at Christ the King Parish while working at the diocesan tribunal. From 1989 until his ordination as bishop, he served as pastor of St. John Vianney Parish in Gallatin, where was active in the community and in the local ministerial association.
Bishop Choby held a Canon Law degree from the University of St. Thomas Aquinas in Rome and worked at the diocesan tribunal throughout most of his priesthood. He was on the faculty of The Pontifical College Josephinum, a seminary in Columbus, Ohio between 1984 and 1989. He served on the seminary's board. He served two five-year terms on the diocese's Presbyteral Council and College of Consultors.
Bishop Choby was elected as diocesan administrator for the Diocese of Nashville by the diocesan College of Consultors in 2004 after Bishop Kmiec was installed as the Bishop of Buffalo. Bishop Choby was installed fourteen months later as the 11th bishop of Nashville on Feb. 27, 2006. He was only the second priest of the diocese's 169-year history to become its bishop; the others have all come from outside the diocese.
He is the first bishop of Nashville to die while in office since Bishop Alphonse J. Smith in 1935.